Joutel Gold Project
Overview & Highlights
Owned by 50/50 Joint Venture between Maple Gold and Agnico Eagle Mines Limited
Located in one of the world's best mining jurisdictions
Excellent infrastructure and large operating mines in the region
39km2 property which hosted Agnico's high-grade past-producing Eagle-Telbel Mining Camp
The Joutel property straddles the Harricana Break, a highly favourable geological structure, over a 15.7 km distance
Significant historical data indicate the potential for high-grade mineralization both near-surface and more high-grade material at depth below old mine workings
Location & Jurisdiction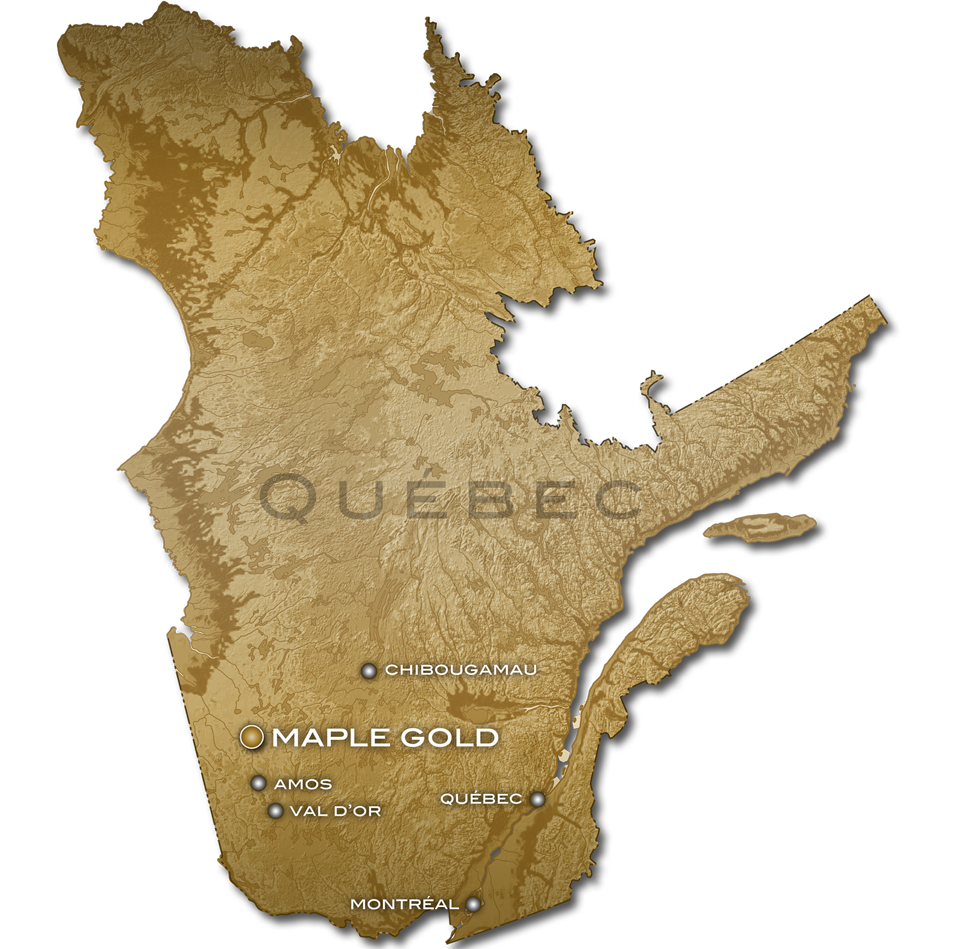 The Joutel Gold Project is located in Quebec, Canada, approximately 2.5 hour drive north of Val d'Or and 1.25 hours north of Amos via Highway 109.
Quebec is renowned for its mineral content and has a total area of 1.7 million km2, of which only 1% is mined and only 5% is covered by mining rights. It is the second largest gold producing province in Canada and hosts some of the largest mining operations in the country, including the Canadian Malartic mine. Canadian Malartic is jointly operated by Agnico Eagle Mines and Yamana Gold and is located just 150 km south of the Douay Gold Project.
Consistently ranked amongst the top 10 mining jurisdictions in the world by the Fraser Institute's Annual Survey of Mining Company, Quebec offers a number of competitive tax incentives created specifically for mineral producers. For example, for every $1 in exploration spent, companies may receive up to $0.37 back in tax credits.
Infrastructure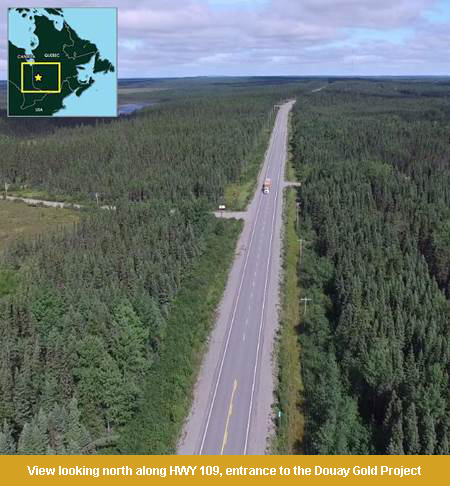 The project benefits from existing infrastructure, which includes:
Major provincial Hwy 109 leads to and cuts across the Project
Hydro-Powerline (Powerline 6) runs through the Project
Full-service 46-person camp in place just west of highway 109
Core logging & storage facilities
Rail & Air within 55km at town of Matagami
JV Partnership
Maple Gold's exploration team is supported by Agnico Eagle's top-tier technical team which has vast experience and knowledge of the Abitibi as well as access to best-in-class software and tools.
As per a joint venture Definitive Agreement signed on February 2, 2021, Agnico would provide a total of C$18 million of funding over four years for exploration expenditures at the Douay and Joutel properties, which will be allocated based on management committee budgets. Agnico and Maple Gold will contribute proportionately for expenditures thereafter.
History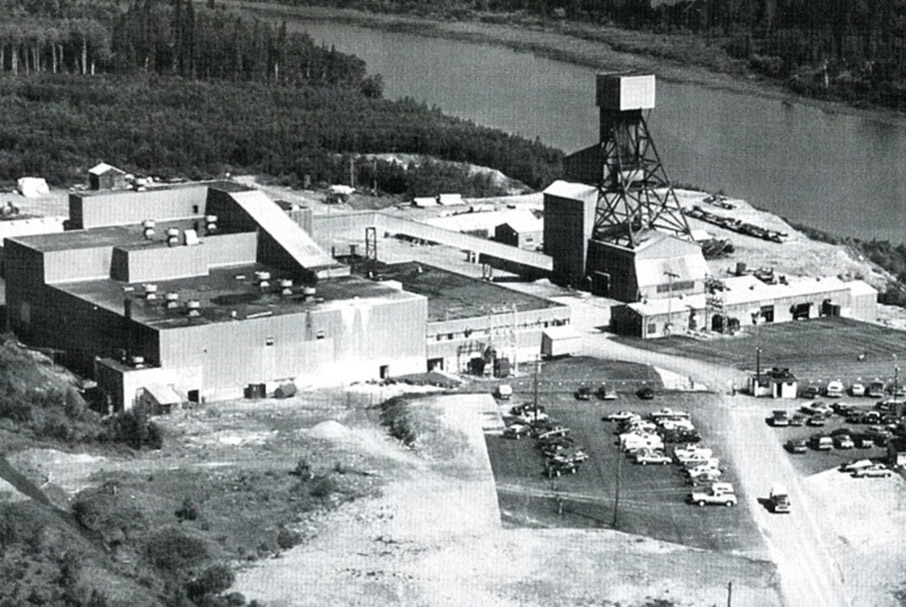 Exploration began in 1962 and first gold intercepts were found between 1962 and 1964 as a result of testing coincident magnetic and electromagnetic anomalies.
The project eventually hosted the past-producing Eagle-Telbel mining camp with total historical production of 1.15Moz @ 6.5 g/t Au from 1974 to 1993
Historical mining at the Telbel mine had focused on exploitation of a single zone between the 600- to 1,000-m levels.


Having identified the potential for remaining gold mineralization and exploration upside beyond the previously mined-out areas at Telbel, the JV initiated a major digitization program to convert approximately 250,000 metres of historical drill data into an electronic format to support 3D modeling and drill targeting. The main components of the program are summarized below:


Phase I: Digitization of historical analog drill data. This was complete in Q2/2021 with over 2,600 diamond drill holes covering approximately 247,000 metres digitized.
Phase II: Construction of new 3D model. Completion expected towards end of Q2/2021.
Phase III: Priority drill targeting and permitting. Completion expected in Q3/2021.



Initial results and figures generated from the digitization and 3D modelling work are expected to be released towards the end of Q2/2021, with a more comprehensive model and corresponding exploration plans to be announced later in 2021.
QP Statement
Unless otherwise stated, the scientific and technical data contained within this website was reviewed and approved by Fred Speidel, M.Sc., P.Geo., Vice-President, Exploration, who is responsible for ensuring that the geologic information provided on this website is accurate and acts as a "qualified person" under National Instrument 43-101 Standards of Disclosure for Mineral Projects.